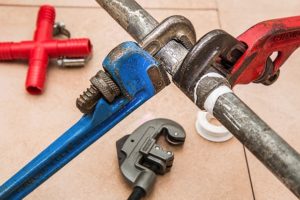 Without indoor plumbing, our modern lives would be a whole lot less comfortable. Taking it for granted is a poor life choice. Here are some helpful tips for how to safeguard your home's plumbing both this summer and throughout the rest of 2019. Most of it is common sense, so be sure to use your head!
What Causes Burst Pipes
Burst pipes can cause havoc in your home, plain and simple. Busted pipes lead to all kinds of water damage, and even if it's in the attic or the basement, it can still cause major health problems for you and your family. Frozen pipes during the winter, an odd spring chill, or caused by summer hailstorms can do plenty of damage on their own. When water freezes, melts, and freezes again, it can lead to massive pressure changes that ;ead to pipes exploding. Over time, the metal that forms your pipes will also rust. Corrosion is caused by minerals that are included in the water that you drink. Weak pipes can leak or crack or shatter. If the pipes are installed incorrectly, it can lead to problems that you don't expect. Tree roots, water pressure, and faulty foundations can all cause burst pipes as well.
Protecting Your Plumbing
Clearly, the next step is to protect your plumbing. Make sure all of the pipes and the associated systems are inspected for problems on a monthly basis. Doing this regularly enough can prevent issues. Mineral buildup, moisture problems, and pressure problems can ruin your plumbing, so when you get inspections done, you can find these problems and solve them ahead of time.Maintain the plumbing and pipes whenever you can. If you or someone in your family doesn't know how to do this, then it's time to rely on professional expertise.
Relying on Professional Expertise
Finally, don't be afraid to call on master plumbers to help you get the job done. After all, even if you pride yourself on being handy, you don't want to do something wrong. Any mistakes can make a bad situation even worse. Getting remodels and renovations done is much easier when you won't have to worry about pipes causing a flood in your home.
All of Your Plumbing Needs from Master Plumbing
Give Master Plumbing a call at (301) 650-9100 or contact us online to get more information on how our expert plumbers can help you with your dripping faucet (or just about anything else plumbing related!). We have received Angie's List Super Service Award recognition for plumbing and drain cleaning every year since 2007, in addition to the Best Plumber award from Best of Bethesda. We are fully licensed, bonded, and insured, and our service is unparalleled. Give us a call today—you won't regret it! To see examples of our projects, follow us on Facebook, Twitter, and Pinterest.